This is an overhead view of our town: Waterloo Alabama on the Pickwick Lake area of the Tennessee River.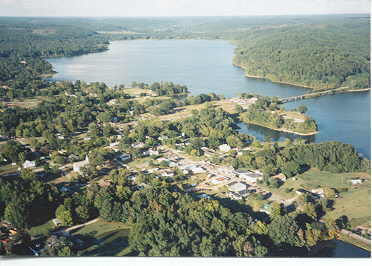 We have been fishing Pickwick Lake all our lives. The fishing here is incredible. This past summer my dad and I landed several large bass, both largemouth and smallmouth, as well as some nice hybrid striped bass. Bill Jr. caught a nice 9 lb. + largemouth, 6 lb. + smallmouth, and several striped bass over 6 lbs. The bluegill and crappie fishing is also excellent. The crappie and sauger and currently taking the bite pretty regular now in late October. Nice stringers are being put together by friends of ours.
Bill Sr. is currently retired from Reynolds Metals Company, where he worked for over 32 years. He is currently spending most of his time fishing, talking about fishing, planning a fishing trip, or looking for old fishing tackle. He also likes to collect old hunting items ( guns, knifes, etc.)

Bill Jr. is a high school teacher with a masters degree in education from the University of North Alabama. I teach in Lauderdale county. I have taught History and Spanish for the past 9 years. In my spare time I can usually be found on the river fishing with my dad or brother in our "stump jumper" boat we bought in Reelfoot Tennessee. I'll post a picture of the boat later for all to see. It is a neat boat.

Pictures will be posted in early spring of the new "drift boat" Bill Sr. will be building for his other son Tony, who is an avid fly fisherman.

Check back later for more interesting info about what we are up to.